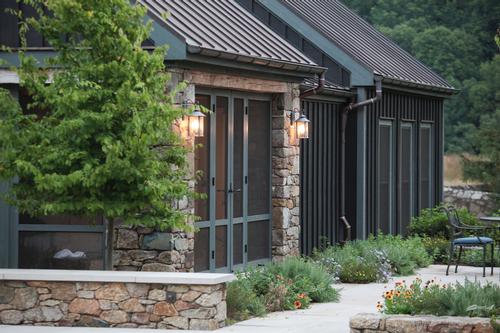 Welcome!
E Fletcher Construction - Custom Homes in Rappahannock County, Virginia. Less than 3% of new homes built today are truly custom built. The process of a true custom home is the product of the client, builder and architect working together. For clients who have the vision and desire, a true custom built home helps fulfill a lifelong dream.
About Us
Edward (Eddie) Fletcher, Owner

Eddie Fletcher founded E. Fletcher Construction in 2008. Eddie is personally involved with every project, from initial design through the last finishing details.

Raised in Virginia's Piedmont, Eddie possesses a strong connection to the land. From an early age, Eddie has worked and trained in all aspects of construction and the building trades. This experience has instilled in him an appreciation for quality materials and the details required to build a home or structure that endures for generations.

Working with the Mid-Atlantic's top architects, designers, and craftspeople, E. Fletcher Construction understands the collaboration necessary to deliver an outstanding product, and knows that not every detail can be conveyed in a drawing. We have the unique ability to translate architectural vision into unique, elegant and beautiful homes and structures. Our reputation stands solely on the success of these close-working relationships and happy clients.



Our Values
E. Fletcher Construction, located in Washington, VA in Rappahannock County, combines traditions of the past with today's building innovations to create unique, regionally specific, elegant custom homes. We deliver classic structures that are beautiful, energy-efficient, and easy to maintain. Using time-tested materials and sustainable building methods, we construct homes with character that will last.

We strive to make sure our clients are truly happy in their new homes. We build homes that meet our client's dreams while carrying out the architect's vision; embrace and enhance the client's lifestyle; meet their practical needs; and provide comfort.

Timelessly crafted.
E. Fletcher Construction welcomes the opportunity to build one-of-a-kind custom homes and structures. The most talented craftspeople from Virginia's Piedmont create historically authentic details in each home by using available local and regional materials.

Sustainably built.
At E. Fletcher Construction, we practice aspects of the age-old art of home building, while also embracing and implementing cutting-edge advancements in sustainable building practices. These eco-friendly practices are key to the home's long-term comfort, efficiency and maintenance

We believe it is our responsibility to advise our clients about the many options to implement sustainable building practices. Because the building industry is ever evolving, we constantly study and research the advancements in sustainability that can improve the home's overall performance, save maintenance dollars and lower energy consumption.
The Process of Building a Custom Home
Less than 3% of new homes built today are truly custom built. The process of a true custom home is the product of the client, builder and architect working together. For clients who have the vision and desire, a true custom built home helps fulfill a lifelong dream.

Collaboration
We believe the most successful building projects result from a collaborative working relationship among client, architect and builder. Respect, trust and open communication are key elements to a strong working relationship throughout the building process. As clients communicate their ideas and needs for a home, we work with them and their architects to create a detailed construction plan and schedule.

Home Site Selection
By the time we talk to a client, he or she may already have purchased land and even have a design in hand. If not, we can put clients in touch with local realtors to help find land and architects we work with to help design their home.

Site Prep
This is the first physical work of the project. This is also the stage where we consider the location and position of a new home or structure. We consider drainage, waterways, the aspects of shading - which trees and plants that will remain and solar considerations. Solar considerations are important at this time. The client may also consider a landscape architect or exchange ideas with us about the long-term use of the land, including removing invasive species, restoring native grasses, or how to put land in conservation easement.

Foundation, Framing & Insulation
After the site prep is completed, we pour footings, build walls and waterproof the home's foundation. Next – and often an exciting stage for the homeowner – we frame the walls, and window and door openings. We work with clients to select the most energy-efficient doors and windows that also retain the timeless look of the home. At this point, clients are able to walk around the rooms of their homes for the first time. Once the walls are up, we begin the intricate work of installing the inner workings of the home, including heating and air-conditioning, plumbing, electrical, and other communications systems. We want what is installed behind the walls to look as pristine as the finishes a client sees every day. At this point, we install premium insulation to reduce the long term energy cost of owning the home.

Finishes & Details
E. Fletcher Construction uses many of the available regional and local materials to achieve a timelessly crafted home. We also believe in using reclaimed architectural salvage, such as reclaimed beams or interior doors, to add unique features to the home. Using specialized tools, our craftspeople can create historically accurate moldings and finishes, or replicate the architectural details of past eras. Most of our moldings are made using local materials and milled in our own shop.

Sustainability
At E. Fletcher Construction, we think carefully about each home and structure we build in the context of the environment around it, and how the structure will affect that environment. We specialize in building homes using sustainable technologies, such as geothermal heating and cooling, solar power, and premium insulation systems, which can reduce the long-term maintenance and cost of owning a home. Sustainable outcomes also result from good site management to encourage resource efficiency, reduce material waste and avoid disposal costs.

Geothermal Heating and Cooling
A geothermal heating and cooling system taps into the earth below the frost line, which always stays around 50 degrees Fahrenheit, to reduce a home's heating and cooling loads. A geothermal system works more efficiently because the system's mild starting point creates an efficient shortcut to the target temperature. For example, on a 100-degree Virginia summer day or a 0-degree Virginia winter night: a system starting at 50 degrees does not work so hard to get the house comfortable.

Solar Power
Solar power uses arrays of photovoltaic cells to convert sunlight directly into electricity. The benefits of residential solar power are: energy from the sun is a plentiful, renewable resource; it provides clean energy with no greenhouse-gas emissions; and it can save you money on your electric bills. The federal government offer tax rebates for qualifying solar power installations.

Insulation
According to the Department of Energy, space heating and cooling in homes account for 44% of all energy used. Choosing the correct insulation is one of the most important factors in creating an energy-efficient home and lessening its environmental impact.
Windows and Doors
Quality, tight-fitting, and well-insulated windows and doors are essential to an energy-efficient home. We make sure every window and door fits perfectly to enhance energy-efficiency, is built to withstand natural elements, and enhances the character of the home or structure.
Historical Renovations
We believe strongly in preserving homes and structures to help maintain their historical look, retain the beautiful architecture of past eras, and remain a part of the community.

Based in the historic town of Washington, Virginia, founded in 1796 and known as the "first Washington of them all," E. Fletcher Construction has extensive experience in historical renovations and restorations. During the first half of the 20th century, many of the town's architectural structures fell by the wayside or were not always maintained in the historical style. However, over the last decade, some of these buildings have been brought back to life and Eddie has personally renovated many of the historical structures in Washington, VA.

We welcome the opportunity to work on and understand the unique challenges of historical renovation projects. We work closely with the client, the architect, and the community, then carefully study the history of the building to learn more about what materials were used in construction, the time it was built and how it was built.

E. Fletcher Construction maintains the integrity of historical buildings while incorporating sustainable, energy-saving systems. In order to retain the look and feel of the building's original era, E. Fletcher Construction employs some of the area's finest craftspeople who specialize in custom millwork and recreating period finishes and moldings. We are uniquely poised to install or replace the outdated systems of an older home with more energy-efficient ones – including solar power, geothermal heating and cooling, and premium insulation systems – to help the home or structure continue to withstand the test of time, while operating as an energy-efficient structure of today.